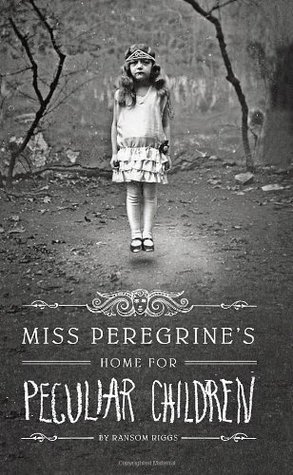 Title: Miss Peregrine's Home for Peculiar Children
Author: Ransom Riggs
Rating:  

Genre: Young-Adult, Paranormal,Fiction, Mystery
Pages: 352
Published: 7th June, 2011
Published by: Quirk Books
Format: Paperback
Source: Personal Purchase
Goodreads Synopsis: A mysterious island. An abandoned orphanage. A strange collection of very curious photographs.It all waits to be discovered in Miss Peregrine's Home for Peculiar Children, an unforgettable novel that mixes fiction and photography in a thrilling reading experience. As our story opens, a horrific family tragedy sets sixteen-year-old Jacob journeying to a remote island off the coast of Wales, where he discovers the crumbling ruins of Miss Peregrine's Home for Peculiar Children. As Jacob explores its abandoned bedrooms and hallways, it becomes clear that the children were more than just peculiar. They may have been dangerous. They may have been quarantined on a deserted island for good reason. And somehow—impossible though it seems—they may still be alive.A spine-tingling fantasy illustrated with haunting vintage photography, Miss Peregrine's Home for Peculiar Children will delight adults, teens, and anyone who relishes an adventure in the shadows.
Plot Overview:
I don't exactly remember where I first heard about this book, but I can say with certainty that Booktube, particularly Jesse from Jessethereader, gave me that extra nudge I needed to put it atop my to-buy list.
I will now tell you as much as I can about the book without spoiling anything.
Jacob Portman was enthralled by his grandpa's fascinating stories of fighting horrible monsters and of his stories of his childhood in the orphanage filled with strange children. He looked to him with awe and continued to enjoy his stories no matter how many times his grandpa told me.
Now, at sixteen, Jacob believes his grandpa's stories are merely exaggerated tales of his time serving WWII .
However a horrible accident leads Jacob to question everything. Was this accident really just an accident? Did he see what he thought he saw in the woods that night? Are the stories true?
Jacob looks for answers in the abandoned orphanage his grandpa once grew up in and upon exploring the house Jacob has reason to believe, even after all theses years, the peculiar children who once lived there are still alive.
My Thoughts:
Ransom Riggs expertly crafted a story of suspense, mystery and eeriness.
When I first saw the book and flipped through it, I mistakenly took this for a horror story. (Could you blame me? Some of the pictures are down right creepy!) However, this book isn't horrific at all. I categorize this book as a bizarre mystery. It definitely, without a question mark, gives off an eerie vibe but it doesn't reach the Stephen King horror standard. It's more like a Tim Burton movie than American Horror Story or Cujo. Yeah, so…don't worry.
Miss Peregrine's Home for Peculiar Children, is an unusual story of discovery and finding one's self. The characters are believable despite their peculiarities. It contains a wonderful mixture of adventure, tension, enigma and a slight peek of history.
I wouldn't say that Miss Peregrine's Home for Peculiar Children, is fast paced but its definitely not slow. (Notice the bold, italic, and underline???) Actually that's not entirely fair; throughout most of the book you're hanging in a web of suspense and questions and for the rest of the book you're running with the character trying to keep pace. So you see, it's definitely not boring. This not-fast-but-not-slow thing could've turned out horribly but Ransom Riggs knows how to play it. *thumbs up*
What sets this book apart from others is the vernacular photographs found throughout the book that adds to the narration and brings the characters to life on a different level. It adds to the eerie mood of the story and gives it a theme that only seems suitably described as contemporary vintage.
The only thing I didn't care for in the plot is a specific, small scene that leaded up to the conclusion. This scene makes it seem like the author didn't know how to connect the conclusion with the rest of the story and so he put that part in there. I will not mention the part I'm speaking of due to spoilers. However, this scene, that lasted about 3 pages out of 352, is my only criticism of an other-wise must read book.
Who would like this book?
This book is perfect for anyone trying to ease into spook reads or anyone who loves a bit of spookiness in their books. Also for those who appreciate a unique quality in their books. If you haven't picked up this book yet…what are you waiting for?
Quotes from the Book:

"We cling to our fairy tales until the price for believing in them becomes too high."

 "I had just come to accept that my life would be ordinary when extraordinary things began to happen."
"Stars, too, were time travelers. How many of those ancient points of light were the last echoes of suns now dead? How many had been born but their light not yet come this far? If all the suns but ours collapsed tonight, how many lifetimes would it take us to realize we were alone? I had always known the sky was full of mysteries—but not until now had I realized how full of them the earth was."
 Did You Know?
Riggs had intended for this to be a picture book of photographs he had collected, but upon the advice of an editor from Quirk books he used some photographs as a guide to form his story.
The rights have been sold to 20th Century Fox for a film adaptation. Tim Burton (which, if you've seen my thoughts of the mood of this book above, I think is perfect) is said to direct it and Jane Goldman is said to be adapting the screenplay.
There is a graphic novel of this book: Miss Peregrines Home for Peculiar Children: The Graphic Novel.
The sequel's title is Hollow City