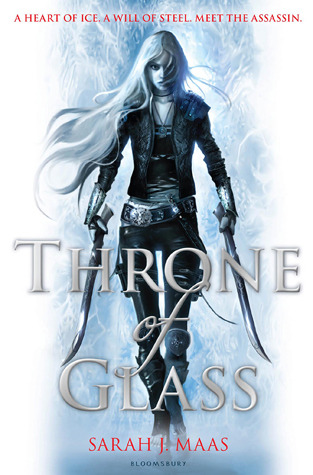 Title: Throne of Glass
Author: Sarah J. Maas
Rating:

Genre: Fantasy, (Young Adult)
Pages: 404
Published by: Bloomsbury
First Published: August 2, 2012
Format: Paperback
Source: Personal Perchase
Goodreads Synopsis:

Meet Celaena Sardothien.
Beautiful. Deadly.
Destined for greatness.

In the dark, filthy salt mines of Endovier, an eighteen-year-old girl is serving a life sentence. She is a trained assassin, the best of her kind, but she made a fatal mistake: she got caught.

Young Captain Westfall offers her a deal: her freedom in return for one huge sacrifice. Celaena must represent the prince in a to-the-death tournament—fighting the most gifted thieves and assassins in the land. Live or die, Celaena will be free. Win or lose, she is about to discover her true destiny. But will her assassin's heart be melted?
Plot Overview:
Caelena Sardothien, fresh from the death camp Endovier has to compete in competition to earn her freedom. There is a Test every week to determine if the competitors go back to where they came from or move on to the next round. Caelena, emaciated and out of shape needs to train and familiarized herself with her skills again. She is determined not to go back to Endovier. She won't last another winter.
My Thoughts:
I am a huge fantasy fan so I was excited when I heard of this book and shocked when I wasn't particularly fond of it. The synopsis portrays a deadly assassin fighting to earn back her freedom. It promises kick ass fighting. That's what I was expecting. What I got though was an assassin who kept talking about how good she was but never really showed it. I understand that the characters' strategy was to keep her identity and skills a secret so the other competitors won't view her as a threat, and the element of surprise would be on their side. And that's a good plan, but I just wish the author would've incorporated Calaena's skills somehow. There were probably only around three scenes (I'm not exaggerating) throughout the book where Caelena shows her capabilities. And they were surprisingly brief.
I feel like there was an opportunity missed with the training scenes as well. They were also pretty brief and the obstacles or Tests themselves weren't that impressive. One of the Test was testing the competitors on their archery skills and I thought Okay, this is where it gets good. But it just turned that they had to shoot stationary targets in the training hall at different distances. I feel like there was so much more that could've been done with that scene! Small thing could've made a difference: the targets could've been moving or they could've been outside, even just to change the setting would've been better. I will say that I loved the Test where they had to climb. That was a good one.
I liked the fantasy and magical elements in this world. The world and the magic are definitely things I look forward to reading in the next books. (Especially since it how it ended.) I'm curious to see how it will evolve throughout the books. The magic and fantasy are what kept me reading on the second half of this book. It got better. There was mystery and intrigue. I didn't like how it took long to get to the fantasy part of this fantasy book, though. I wish it got to that part of the plot sooner so it wouldn't seem dragged out in the middle. This is categorised as a fantasy book after all.
I was so intrigued by the history of the world and what it's people (like Caelena) went through. But the author only very briefly touched on the topic. There wasn't much world building. I wanted to know more and I hope I will in the next books. There isn't much said about the world outside the castle except for Caelena's experience in Endovier (the death camp). However, I feel like there is so much more to this world than what can be said in one book, so I'm curious to see where it goes from here.
On the Characters:
Caelena Sardothien is the 17 year-old assassin in this book. Everyone knows her name. She's good at what she does and she knows it. She's full of smirks, sarcasm, darkness and mystery. In the beginning of this book she is in shackles in a notorious death camp. Emaciated and scarred. I like how they showed her in a state of weakness in the beginning because the image added to the contrast of her in the camp and her (healthy) in training. Caelena's vanity annoyed me in the beginning of the book. Caelena is a deeply complex character. Even at the end of the book there is so much we don't know about her. She's the type of character whose story gets told over a series of books.
Caelena goes through a lot of internal struggle as she tries to keep her mind-set on her goal and as she befriends people she's not sure she can trust.
There's a bit of a love triangle between Caelena and two other characters: Chaol and Dorian. What I like is that the story doesn't revolve around the love triangle. There is so much going on with Caelena that the love triangle isn't in the spotlight.
Dorian is the Crown Prince of Adarlan. He sought out Caelena to be his Champion in his father's competition more to bother him than anything else. Dorian is nothing like his cruel father, the king. He was born more of a reader than a fighter and doesn't agree with many of his father's decisions. He is a flirt and a bit of a womaniser. When Caelena and Dorian are put in a scene together their humor, smirks and sarcasm bounce off one another so well.
Chaol is Captain of the Guard and has been Dorian's friend since they were young and keeps him levelheaded when needed. Unlike Dorian, Chaol is more stoic and less easy-going around people. He trains and guards Caelena, making sure she doesn't try to escape and keeps her out of trouble. He immediately notices her potential and pushes her to limit. He takes his job seriously. I love the friendship that comes out of this.
On the Rating:
Overall I was disappointed by this book: The plot took to long to build up, the world building wasn't great, I felt there were a lot of missed opportunities … but I can see it's potential and will pick up the next book sometime in the future. I didn't think it was a bad book but it just wasn't all that and so it got my neutral rating of 2.5 stars
Quotes from the Book:
"We all bear scars,… Mine just happen to be more visible than most."
"My name is Celaena Sardothien. But it makes no difference if my name's Celaena or Lillian or Bitch, because I'd still beat you, no matter what you call me."
"Sometimes, the wicked will tell us things just to confuse us–to haunt our thoughts long after we've faced them."
"You could rattle the stars," she whispered. "You could do anything, if only you dared. And deep down, you know it, too. That's what scares you most."