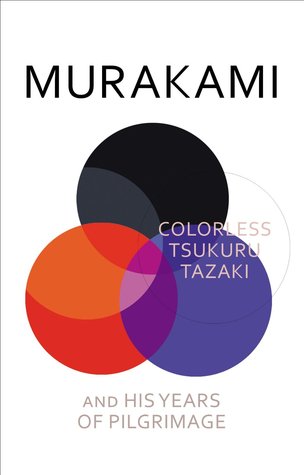 Title: Colorless Tsukuru Tazaki and His Years of Pilgrimage
Author: Haruki Murakami
Rating: 

Genre: Japanese Literature, Fiction
Pages: 298
Published by: Harvill Secker
First Published: 2013
Format: Hardback
Source: Personal Purchase 
Goodreads Synopsis:

Tsukuru Tazaki had four best friends at school. By chance all of their names contained a colour. The two boys were called Akamatsu, meaning 'red pine', and Oumi, 'blue sea', while the girls' names were Shirane, 'white root', and Kurono, 'black field'. Tazaki was the only last name with no colour in it.

One day Tsukuru Tazaki's friends announced that they didn't want to see him, or talk to him, ever again.

Since that day Tsukuru has been floating through life, unable to form intimate connections with anyone. But then he meets Sara, who tells him that the time has come to find out what happened all those years ago.
Plot Overview:
Tsukuru Tazaki was one of five close friends in his highschool years. Then one day,in his college years, they cut Tsukuru off completely, somberly saying they don't want to see him again. They don't say why and Tsukuru doesn't dare ask. After this incedent Tsukuru just drifts through life, never really forming any solid bonds with anyone. He even goes through a stage of depression. Trigger warning for depression and some adult content. Years later, after his friends cut him off and after his stage of depression, it stills plagues Tsukuru why his close friend would treat him in such a way.
Sarah, the woman Tsukuru is seeing, urges his to find closure by finding out what happened all those years ago.
My Thoughts: 
This was the first Murakami book I read and only after I read it did I find out that a lot of people, who love Murakami's writing, don't recommend this book as an introduction to his work. (oops) The reasons given were pretty much the same; they found it wasn't a good representation of his work and some said there were similarities between this book and his other novel Norwegian Wood.
I enjoyed Murakami's writing style. I loved the way he described things and the analogies he would use. It seemed to me that he would use specific words to produce a certain image in the readers mind. But sometimes he would repeat a certain anology or image. For example, color plays a major theme in this book. Tsukuru's friends all have names that include a color.(check goodreads synopsis above) Tsukuru is the only one of the five that doesn't have a color; he is colorless and Murakami uses this discription again and again to show or symbolize that Tsukuru isn't extraordinary and while I appreciate the message that not everyone needs to have a special color, not everyone needs to be extraodinary, it got tiring to see.
Going into this book I didn't know much about the plot because the author kept everything very vague as evident in the summary. A whole lot of nothing happens in this book. It's narrated in third person as we just observe Tsukuru as he drifts through his life and see how much he lets his abandonment by his friends affect him. Tsukuru doesn't decide to find out why until closer to the end of the book. I understand that things that happened to us can still stick with us as we grow but sometimes I just wanted to tell Tsukuru to either 'just let it go' or 'find out why they cut you off already' so that he would stop thinking about it and stop letting that thing that happened sixteen years ago still affect him. What I was frustrated by was, if they were so close how could they just cut off Tsukuru and how could Tsukuru accept that without an explanation? I kept reading so I can finally know why they cut him off. It just didn't make sense. And the reason why they cut him off in the end was shocking but I still didn't agree with the friends' judgements. Honestly, sometimes it felt like highschool drama; juvinile and petty.
I liked that Murakami played with phantasmagoric scenes in the book by blurring the lines of reality.
This is a book that ends with more questions than answers. I didn't mind how somethings where left vague but didn't like how many loose ends there were. It felt unfinished and incomplete. In the end I think the plot wasn't very exciting but the thing that kept me reading was Murakami's writng and the closure Tsukuru was searching for.
On the Characters:
I'm pretty sure we can all connect with losing touch with people, but other than that I couldn't connect to the main character or any characters in this book. They all just fell flat to me.
Other than Tsukuru you don't really know any of the characters; they drifted in and out of the story which made it hard to care about them. Tsukuru's four highschool friends are mentioned a lot, but usually in the same way; their interests and their personalities are described but I still didn't feel like I knew the characters. It felt more like reading a profile than getting to know them. Other than the four friends there are two other characters: Tsukuru's college friend (whose name I do not remember) and Sarah, the woman Tsukuru is seeing, who incouraged him to find out why his friends cut him off.
On the Rating:
After thinking about it I gave it 2 stars which – if you see my rating system- means "It didn't keep my interest". The characters where flat and drifted in and out, the plot wasn't every engaging and felt choppy at times. In the end the only thing that kept me reading was the writng and even then some descriptions felt repetitive. However, I do plan on picking up another Murukami book.
Quotes from the Book:
"One heart is not connected to another through harmony alone. They are, instead, linked deeply through their wounds. Pain linked to pain, fragility to fragility. There is no silence without a cry of grief, no forgiveness without bloodshed, no acceptance without a passage through acute loss. That is what lies at the root of true harmony."
"Still, being able to feel pain was good, he thought. It's when you can't even feel pain anymore that you're in real trouble."
"We truly believed in something back then, and we knew we were the kind of people capable of believing in something – with all our hearts. And that kind of hope will never simply vanish."
"The human heart is like a night bird. Silently waiting for something, and when the time comes, it flies straight toward it."