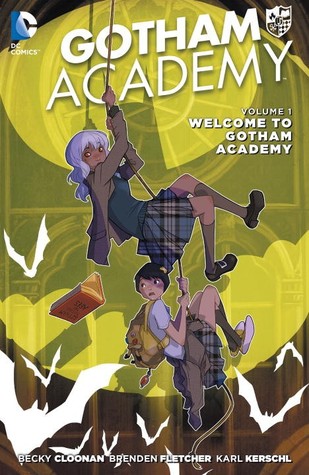 Title: Gotham Academy
Author: Becky Cloonan, Brenden Fletcher
Artists:  Karl Kerschl
Rating: 

Genre: Mystery, Young Adult, Comic
Pages: 160
Published by: DC Comics
Publication Date: June 17th, 2015
Format: E-Book
Source: Borrowed

Goodreads Synopsis:

Welcome to Gotham Academy, the most prestigious school in Gotham City. Only the best and brightest students may enter its halls, study in its classrooms, explore its secret passages, summon its terrifying spirits…

Okay, so Gotham Academy isn't like other schools. But Olive Silverlock isn't like other students. After a mysterious incident over summer break, she's back at school with a bad case of amnesia, an even worse attitude…and an unexplained fear of bats.

Olive's supposed to show new student Maps Mizoguchi the ropes. Problem: Maps is the kid sister of Kyle, Olive's ex. Then there's the ghost haunting the campus…and the secret society conducting bizarre rituals.

Can Olive and Maps ace the biggest challenge of their lives? Or are they about to get schooled?
Overview:
AAAH! I'm so glad I read this! This was so good! Okay, so let me tell you about it. This follows the main character, Olive, at the Gotham Academy boarding school. We don'tknow much of anything about her in the beginning. There also seems to be a gap in her memory of the previous summer. So she deals with that as well as trying to figure out (with the help of her friends) why the gohst of Millie Jane (if it is a gohst at all) is huanting the girls' dormitory building.
My Thoughts:
Going into it, I wasn't entirely sure I was going to be a fan. Pfft! I'm defintely a fan!
» The plot is so perfectly paced, and then there's a subplot of Olive's past that seems like it'll carry on to the second volume. That alone has me intrigued.
All this (as made obvious by the title) takes place in Gotham City, but you don't have to have any prior knowledge of Gotham or the superheroes and villains that reside there. In fact I wouldn't call this a comic of the "Capes and Tights" kind; it doesn't follow a superhero fighting crime, it's just a story that takes place in Gotham. There are mentions of Batman and since Bruce Wayne helps fund the school, it's inevitable that he would come up.
» The characters were my favorite part of the comic! They completely make the story.
Olive is a great character; she's kind, quite and mysterious. But my absolute favorite character is Maps. Maps!Her name is Mia but she like everyone to call her Maps. She seems younger than everyone else and is just the quirkiest and cutest thing ever! She's the type of person who loves mystery; she's the one who nudges Olive on this quest, or "mission" as she likes to call it, to find out about Millie Jane's ghost. I'm not even doing her justice right now!!
Coming in second to my favorite character Colton. He's the kind of character who sells stuff all shady-like in school; he's basically the school's black market. He's shades are always present and he helps Olive and Maps break into places with his lock picking skills.
I love the character development and depth shown and I think it can only get better with each issue.
» The art is 5 star quality! I'm a huge fan of both, the illustrations and the coloring. The characters are drawn beautifully. Even things outside of the focus point are done so well! And the coloring is drool worthy. It's so beautiful. All the colors on a single pages will compliment each other so well, and pop in just the right way. I also love the way the panels trasition. Defintely 5/5 stars quality!