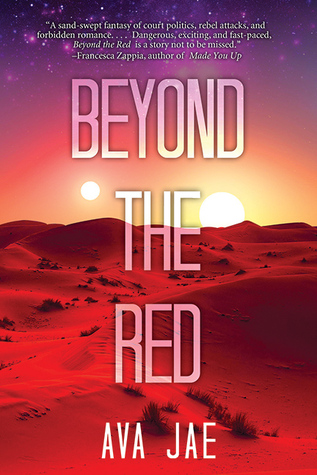 Title: Beyond the Red
Author: Ava Jae
Rating: 

Genre: Sci-Fi, (Young Adult)
Pages: 360
Published: March 1st, 2016
House: Sky Pony Press
Format: E-book
Source: Edelweiss
Goodreads Synopsis:

Alien queen Kora has a problem as vast as the endless crimson deserts. She's the first female ruler of her territory in generations, but her people are rioting and call for her violent younger twin brother to take the throne. Despite assassination attempts, a mounting uprising of nomadic human rebels, and pressure to find a mate to help her rule, she's determined to protect her people from her brother's would-be tyrannical rule.

Eros is a rebel soldier hated by aliens and human alike for being a half-blood. Yet that doesn't stop him from defending his people, at least until Kora's soldiers raze his camp and take him captive. He's given an ultimatum: be an enslaved bodyguard to Kora, or be executed for his true identity—a secret kept even from him.

When Kora and Eros are framed for the attempted assassination of her betrothed, they flee. Their only chance of survival is to turn themselves into the high court, where revealing Eros's secret could mean a swift public execution. But when they uncover a violent plot to end the human insurgency, they must find a way to work together to prevent genocide
My Thoughts:
Holy crap! This was really good. I wasn't expecting to like it THIS much since I'm picky with Sci-Fi, and I mean really picky. But this was a hit! It got me interested from the very beginning. From the very first sentence you'll want to keep reading:
"My brother killed me again."
»Plot: This takes place on a different planet, in a world where humans are low on the totem pole and half-breeds are illegal and executed when found. Eros is a half-breed, and has surprisingly lived to be 17 (or 18?) among his adopted human family. But something goes wrong and he and Kora's (the alien queen) paths cross. Eros now finds himself having to co-operate with Kora, the last person he would want to help. And Kora continues to try to make her people see her as more than a girl and an incompetent ruler. She makes hard decisions, some that will haunt her.
Great story! and so nicely paced. It has action and some sexy scene (but nothing excessive for YA) and touches on topics like family, racism, sexism, and sexuality. This is a story tangled in lies, betrayal, politics, and uprisings.
»Writing: This story alternates between Kora and Eros's point of views, which really allows the readers to gain perspective on both sides of a conflict and evokes sympathy for both parties. If you're not typically a Sci-Fi reader, and don't like reading stories about different planets and aliens, don't worry! This reads like a dystopian. If you like dystopia then you'll be fine. Pick this up!
»Characters: The characters are great! I couldn't help but love Eros. He is neither wanted by the humans nor the aliens, which leaves him suspended. He doesn't like associating himself with the aliens, though and considers the dessert his home. I also had sympathy for Kora. Her people are rejecting her, but she loves them still and want to protect them from her tyrannical brother. She needs to prove her worth and gain the trust of her people, which leads her to do things she doesn't want to do. She's trying to find her bearings in a world that's trying it's best to bring her down.
This is a book you're gunna want to read!