I am beyond excited to share with you my first author interview! I feel like this is a mile stone for my blog XD
S. Usher's book, The Island, sounds really interesting and I would've read it if I had the time to review it. But life gets in the way sometimes. The two main characters are opponents in the war but are forced to work together to survive. That has adveture and drama writen all over it!
Okay, okay. Now for the interview:
What was the hardest thing about writing The Island?
I'd have to say keeping track of the number of days that they were on the island and making sure the action was evenly paced. This book came out to be a series of conversations, and for a while, they were all happening in the first week!
When did you decide you were going to be a writer?
I began writing novels around aged 11, when I got my first computer in my room. But I decided to re-become a writer about two years ago, thanks to a massive quarter-life-crisis.
Do you write full time or part time?
I write full time now.
I think it's safe to say writer's block has plagued every writer at some point. Do you have any methods of overcoming writer's block?
For me, writer's block is usually due to two things: word exhaustion or worry. Word exhaustion happens when I've written a lot of words over a short period of time. I feel like I'm describing the scene the same way over and over again. When that happens, I take a break for a day or so. I've also stopped working on the weekends to give myself time to recharge.
Worry is the other block. I suffered from it a lot this past year when I was living with my parents and hunting a new house here in Pensacola after a cross-country move. One of the things I'm trying to remember is that worry is a down payment on a problem you might never have (quote not me). 99% of the time, all of the worries I dump into my journal never happen.
Either way, the best cure for writer's block is separation from my computer. Inevitably, when I'm driving to a convention, I always get the best plot bunnies because I can't write them down.
Who are some of your favourite authors? Have they influenced your writing?
Our Lady of Scotland (aka Jo Rowling, Harry Potter) was all I read from ages 11-18. Recently, I've broadened my horizons to include Leigh Bardugo, J. Leigh Bralick, Nina J. Lux, Rae Carson, and some others. Reading takes part in the part of my brain that consumes, which is distinct from the part that creates. I'm sure some of these great authors have leaked into my brain, but I read to enjoy, not necessarily to glean from others.
If this book was turned into a film, what actor and actress would you want to see as your main characters?
Galian would be someone like Colton Haynes, handsome, kind, and easygoing. Theo would be someone like Deepika Padukone, fierce, beautiful, and taking-no-nonsense.
What's your reading taste like?
Oh, I'm a sucker for "special-girl-saves-kingdom" fantasies. Also, apparently, I've become enamored with urban fantasies as well. I just love a girl with an attitude.
What is your favorite motivational quote?
"What if I fall?
Oh, but my darling, what if you fly?"
– Erin Hanson
When you need a break from writing what do you do?
I knit scarves (as that's all I know how to do and it's mindless work) and I hang out with my two dogs, Zoe and Mr. Biscuit. And 10 months out of the year, I go to the beach.
Which well known person (living or dead) would you like to meet and why ?
If I ever saw Our Lady of Scotland, Jo Rowling, I might faint and turn into an incoherent, babbling fool.
About the Book: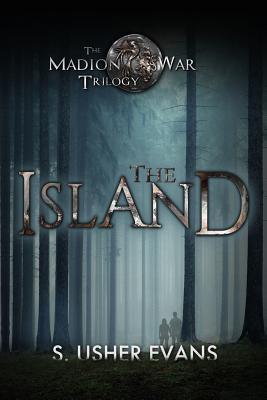 Title: The Island (Madison War #1)
Author: S. Usher Evans
Genre: Fantasy, (Young Adult)
Pages: 260
Published: April 26st, 2016
House: Sun's Gold Ray Publishing
Click to Buy on Amazon
Goodreads Synopsis:

Prince Galian is third in line to the throne, but prefers his place as a resident at the Royal Kylaen Hospital. When his father urges him to join the military to help reclaim their colony, Galian is forced to put aside his oath to Do No Harm and fight a war he does not believe in.
   
   Across the great Madion Sea, Captain Theo Kallistrate dreams of a day when she is no longer bound by conscription to fight for her country's independence. But when the Kylaens threaten, honor and duty call her to the front lines to fight off the oppressors.
   
   When an air skirmish goes wrong, both Theo and Galian crash on a remote island hundreds of miles from either nation. Grievously injured, Theo must rely on Galian's medical expertise, and Galian must rely on Theo's survival skills, to live another day in a harsh and unforgiving terrain.
   
   Can they put aside their differences long enough to survive? Or will the war that brought them to the island tear them apart?
(Only available to US)
↑ ↑ ↑ CLICK ↑ ↑ ↑
Includes The Island + Swag