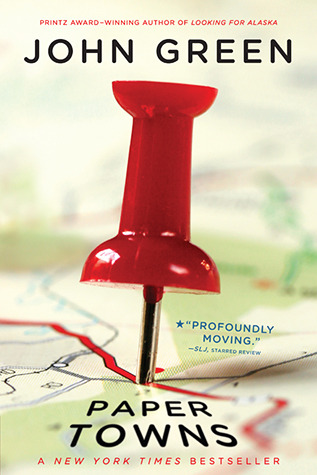 Title: Paper Towns
Author: John Green
Rating: 

Genre: Contemporary, Young Adult
Pages: 305
Published by: Speak
First Published: October 1st
Format: Paperback
Source: Personal Perchase
Goodreads Synopsis:

Who is the real Margo?

Quentin Jacobsen has spent a lifetime loving the magnificently adventurous Margo Roth Spiegelman from afar. So when she cracks open a window and climbs into his life—dressed like a ninja and summoning him for an ingenious campaign of revenge—he follows. After their all-nighter ends, and a new day breaks, Q arrives at school to discover that Margo, always an enigma, has now become a mystery. But Q soon learns that there are clues—and they're for him. Urged down a disconnected path, the closer he gets, the less Q sees the girl he thought he knew…
Plot Overview:
After Margo disappeares, Quentin worries about her well being and decides to find her through the bread crumb trail she left behind with the help of his friends. On this quest to find Margo, Quentin discovers the different shades and versions of her; how she acts around certain people and how she acts when no one was around.