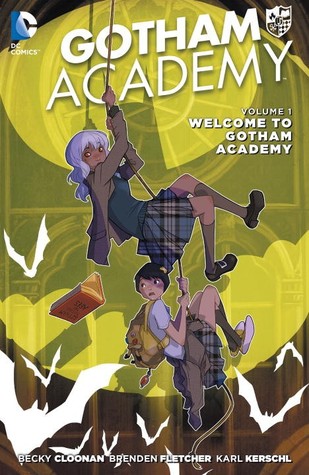 Title: Gotham Academy
Author: Becky Cloonan, Brenden Fletcher
Artists:  Karl Kerschl
Rating: 

Genre: Mystery, Young Adult, Comic
Pages: 160
Published by: DC Comics
Publication Date: June 17th, 2015
Format: E-Book
Source: Borrowed

Goodreads Synopsis:

Welcome to Gotham Academy, the most prestigious school in Gotham City. Only the best and brightest students may enter its halls, study in its classrooms, explore its secret passages, summon its terrifying spirits…

Okay, so Gotham Academy isn't like other schools. But Olive Silverlock isn't like other students. After a mysterious incident over summer break, she's back at school with a bad case of amnesia, an even worse attitude…and an unexplained fear of bats.

Olive's supposed to show new student Maps Mizoguchi the ropes. Problem: Maps is the kid sister of Kyle, Olive's ex. Then there's the ghost haunting the campus…and the secret society conducting bizarre rituals.

Can Olive and Maps ace the biggest challenge of their lives? Or are they about to get schooled?